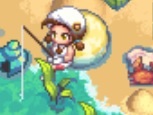 Fishru is a character who appears in Secret Village and is part of Nova Studio from Lakoo.
"Sesshoumaru-San you are so handsome! You almost take the place of GIRORO in my heart."
"Codes...All I see are codes. You're not even real mannn! You're just a code! We all are! Hey, don't walk away!"
Ad blocker interference detected!
Wikia is a free-to-use site that makes money from advertising. We have a modified experience for viewers using ad blockers

Wikia is not accessible if you've made further modifications. Remove the custom ad blocker rule(s) and the page will load as expected.