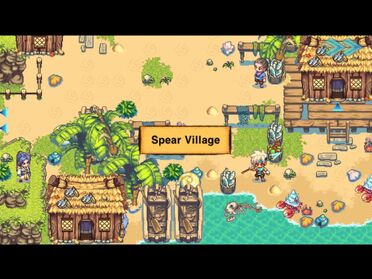 Spear Village is the starting point of the game. Not to mention, the hometown of Thunder and River . Spear Village is seen shortly after Iron arrives within the village. Only to shortly disappear afterwards. In the village, there are various objectives to be done. Some involving the main story and others which are side missions that can be accomplished by interacting with the towns people and taking their requests.
To the image on the right shows Thunder next to his home. Above the screen is (to the top right) Grandpa's hut, which is where River lives just as well as the blacksmith at the back of Thunder's hut and the potion merchant to the top left.
Ad blocker interference detected!
Wikia is a free-to-use site that makes money from advertising. We have a modified experience for viewers using ad blockers

Wikia is not accessible if you've made further modifications. Remove the custom ad blocker rule(s) and the page will load as expected.